Bogor – Mahasiswa Pascasarjana Fakultas Teknologi Pertahanan Universitas Pertahanan (Unhan) mengikuti IEEE International Conference on Computational Intelligence and Knowledge Economy (ICCIKE 2019) yang diselenggarakan oleh Amity University Dubai pada tanggal 11-12 Desember 2019 di Dubai, Uni Emirat Arab. Senin, (16/12).
Dalam konferensi ini, mahasiswa Program Studi Industri Pertahanan, Fakultas Teknologi Pertahanan Unhan Dorothea Sthallhani Jasi, mempresentasikan paper yang berjudul "Strategic Capability Development of Human Resources to Achieve Self-Reliant of Indonesia Defense Industry" dan memperoleh penghargaan Best Paper untuk kategori Innovation Driven Knowledge Economy.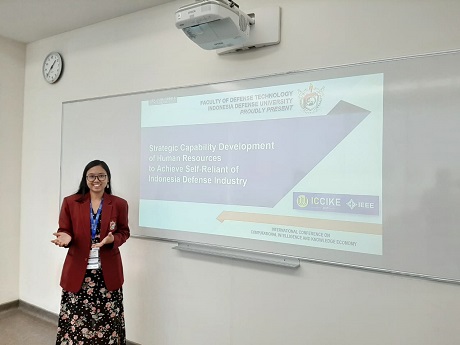 Dekan Fakultas Teknologi Pertahanan, Romie Oktovianus Bura, B.Eng. (Hons.), MRAeS., Ph.D. sebagai pembimbing dalam riset ini mengungkapkan bahwa keterlibatan mahasiswa dalam konferensi internasional merupakan upaya nyata dari akademisi untuk mendukung terciptanya Sumber Daya Manusia Pertahanan yang berkualitas dan profesional dalam mencapai kemandirian industri pertahanan nasional. Akademisi sebagai salah satu pilar dalam Triple Helix Pertahanan harus turut serta bergerak secara sinergi dengan Pemerintah dan Industri, melalui penelitian dan riset ilmiah tentang teknologi dan industri pertahanan nasional.
Paper ini disusun dan dipublikasikan dalam IEEE Proceedings melalui keiikutsertaan dalam ICCIKE 2019 pada Program Capacity Building Fakultas Teknologi Pertahanan, Universitas Pertahanan.(Clr).
Authentifikasi: Kabag Humas Unhan.